Kyle Walker insists he would have been "stupid" not to return early to Manchester City after World Cup break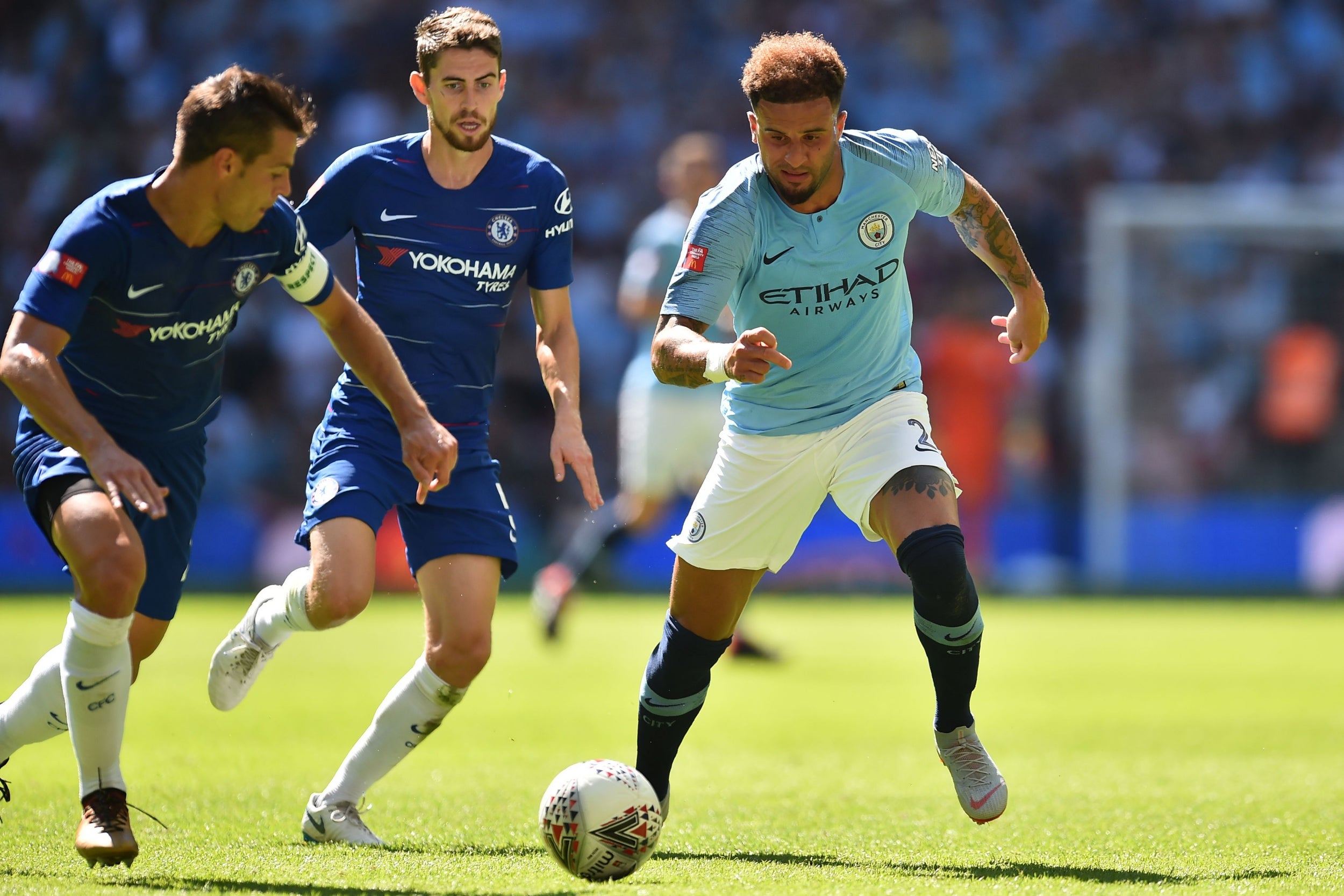 Kyle Walker chose to return to Manchester City training just two-and-a-half weeks after the World Cup finished, and the defender believes it would have been "stupid" for him not to return as early as he did.
Walker and John Stones were both back in training last week, even though they did not return home from the World Cup until Sunday 15 July. As Walker revealed at Wembley on Sunday evening, Pep Guardiola gave the players the option of coming back to get ready for the Community Shield, or coming back on Monday 6 August to prepare for the side's Premier League opener against Arsenal.
But Walker decided that, having won just two major trophies in his club career, he was desperate to compete for another one. "This is a title, and I have not won many," Walker explained. "So to not be a part of this would have been stupid, for me to not want to come back. The gaffer gave me the option, he said you can either come back on 6 August after this, or you can come back and compete [to play]. There is no doubt in my mind that I wanted to be here to achieve what I have achieved today. Luckily the risk paid off."
Walker accepted that his curtailed summer holiday may mean he is tired later in the season, but said that for now he was keeping his focus on the immediate future. "Come Christmas I might be saying to you that I'm absolutely knackered," he admitted. "But that is just football, I'm not looking into the future. I take every game as it comes, and as long as I am on the pitch and playing football, that is what keeps me happy."
Being able to play the Community Shield after just three days training in Manchester was thanks to Walker's hard work over the summer. The defender kept working in late July to make sure he maintained his levels to come back ready in August.
"I've only had three days' training, so to have three days' training and play 90 minutes, it is a big credit to myself, and the work I've put in," Walker said. "Off-season I had a little bit of holiday, but it was still work time. Because I had to prepare, knowing the demands of the manager and what he wants, and the demands also of my team-mates, what they expect from me. I had to make sure I came back physically right. I'm still a little bit off it but I feel like, coming up to next week against Arsenal, I can get the work in."
Even though City broke the Premier League record last season, with 100 points and 104 goals, Walker says that that is now the "minimum" for City's season.
"I think we set the bar last year," Walker said. "We set it so high that we have to try to raise it. Everyone in that dressing room is not going to settle for anything less this year and we want to pick up more trophies. We're in more competitions and we compete in them to win them. I know the gaffer wants to win everything he possibly can and so do his players. 
"We need to drive each other on, the coaching staff and us. It's up to us to achieve those dreams. You do something one year and OK, you might get a pat on the back. But now you've set that standard, you have to do better. So the minimum is what we achieved last season."
Follow the Independent Sport on Instagram here, for all of the best images, videos and stories from around the sporting world.
Source:
https://www.independent.co.uk/sport/football/premier-league/kyle-walker-manchester-city-world-cup-england-pep-guardiola-stupid-return-a8480206.html