Keith Lemon: Coming in America review – unrelentingly awful but very, very funny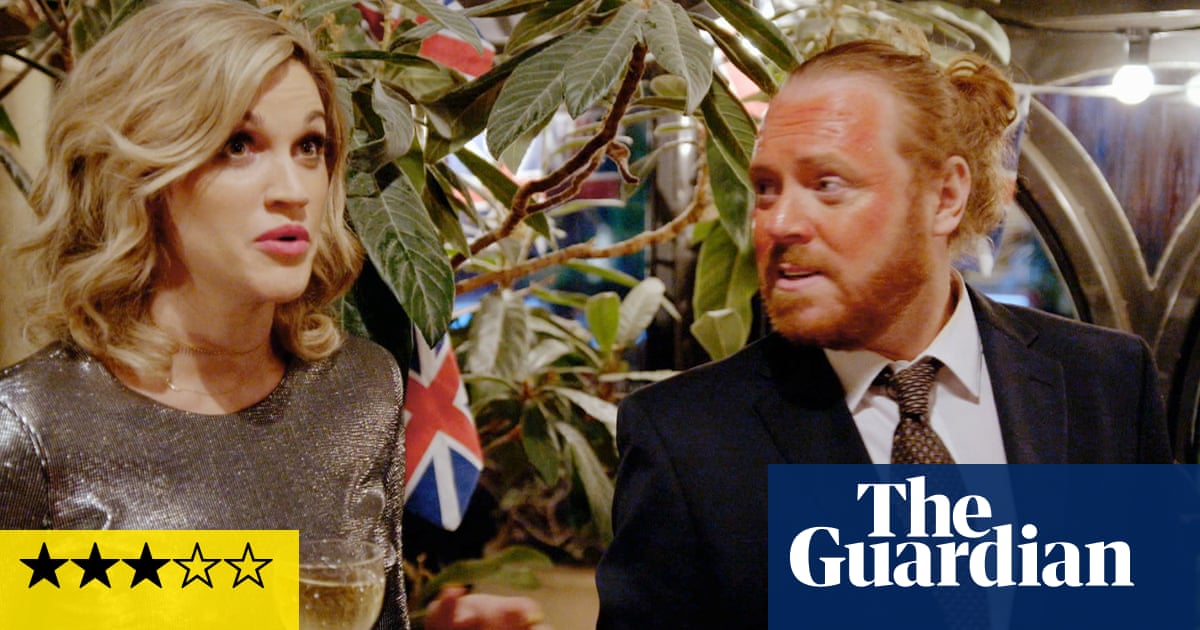 It may be wrong to describe Keith Lemon as one of television's most enduring personalities, but he is certainly one of the most persistent. Over 18 years, Leigh Francis's characterisation has been stretched paper thin across more than a dozen formats and vehicles, including 19 series of Celebrity Juice, five of Through the Keyhole and a poorly received feature film. He is like a monster that has escaped its creator and run amok across the schedules.
Now Lemon means to crack the US, a journey chronicled in Keith Lemon: Coming in America. "I'm already massive in't UK," he says, but he now wants to break out and become a global megastar. "James Corden has done it, Ed Sheeran has done it and, to a lesser extent, Matt Goss has done it."
You will perhaps not be surprised to hear that the US isn't quite ready for Keith Lemon. A Los Angeles focus group, shown a compilation of Celebrity Juice clips, is unanimously horrified. A Hollywood cosmetic surgeon tells him he needs $21,000 (£16,000) worth of work. Emma Stone's people are not getting back to him.
I am aware that Lemon divides opinion, between those who dislike him and those who hate him. Many people are mystified by his unabating popularity, but not me. I'll say this quietly: I think he is funny. I can't help it – it's not something I'm in control of. When he opens his mouth, I laugh. I laugh at his hats, his walk, his uncomprehending eyes, the sheer unrelenting awfulness of him, so fiercely and unapologetically inhabited. I love Through the Keyhole. I wish I could maintain there were complex subversive forces at play in order to justify my view, but that would be a lie. There is, however, a weird purity to Lemon, and something about it tickles my fancy.
Such is my weakness for Lemon that I'm tempted to recuse myself from judging this latest effort. I can see that on many levels, it is pretty terrible – an unfocused, by-the-numbers affair, the kind of thing you have seen many times before, but this time with Keith Lemon in it. His quest for fame and fortune is punctuated by a series of sketches that range from slapdash to downright ill-advised (the best thing about the spoof travelogue David Dickinson Fuckin' Loves an Holiday is the title). It is vulgar in a scattershot sort of way – Lemon says of his new Hollywood agent: "I'm banking on her to fast-track me t'top."
It is also a cast-iron, bulletproof formula. This is exactly the sort of low-rent, stitches-showing reality mess Lemon would make if you let him. It is hard to imagine a better fit between character and vehicle: Keith Lemon failing, and doing it badly. "In England, I have a reputation for being quite irrelevant," he tells his agent. Lemon is no longer simply a satire of moronic, self-regarding, D-list celebrity. He is a D-list celebrity – riding around in a hired limo, wearing a wrist bandage colour-coordinated to match his outfit, trying to lure other D-listers to his welcome-to-Hollywood party. "Steve Guttenberg says he's gonna come," he says.
The celebrities he does manage to wrangle seem happy enough to send themselves up, to let on that they know they are the sort of celeb who would be hanging out with Keith Lemon. He preys upon the hospitality of former Pussycat Doll Ashley Roberts. He goes bowling with Kiss frontman Gene Simmons, who is obliged to acknowledge shouts of "You're the man!" from fellow bowlers. "Did he just call you the mayor?" says Lemon. It's not that it's becoming hard to tell the difference between low-wattage celebrity and its parody. It's that there is no difference. How can Lemon be a parody in a world where Piers Morgan isn't? If he is taking the piss out of anything, it's ITV2.
Anyway, who cares? I laughed. I laughed when he said to the plastic surgeon: "If I lifted my nipples up, would they still work?" Even the surgeon laughed at that.
I'm not going to try to build a case for this show, or for Keith – you will already know exactly what you're getting. If you think he's funny, there is more than enough here for you to enjoy. If you think he's the least funny thing ever to appear on our screens, then I respect your opinion. In fact, I respect it slightly more than I respect mine.
Source:
https://www.theguardian.com/tv-and-radio/2018/jul/05/keith-lemon-coming-in-america-review-unrelentingly-awful-but-very-very-funny